LONGSHOT is niet meer wat het geweest is.
LONGSHOT is not what it used to be.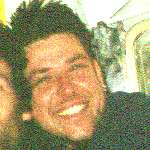 My name is Marc, and I host this website...
I used to be the bassplayer of LONGSHOT, but due to, let's say, circumstances, I had to leave the band in september 1998. Well, the feelings of vengeance are gone (I even did fill in for the new bassplayer on a show that he couldn't play), so within reasonable time, my personal version of the longshot-story will be put up, right here.

Untill then, there's two things you can do:
1. Check out the Dance Cleopatra Story to see where Longshot came from, or
2. Mail me with questions or if you want to get in touch with Longshot.